Main Features:
●
NEW LED back light displays charging / discharging / quick test / circuit more clearly in the dark
●
New refresh mode can show you batteries capacity, letting you know real magnitude
● The charging current can be selected to be 200mA, 300mA, 500mA, 700mA or 1000mA ( 1500mA and 2000mA can only be applied when only slot 1 or 4 is selected ). Default discharging current is 500mA
● It provides four independent charging slots for rechargeable batteries. The charger can charge batteries of different types and sizes and with different capacities at the same time
● The charger integrates the minus delta voltage ( - ΔV ) for NiCd or NiMh battery charging termination, and for Li-ion batteries charging to 4.2V with pre-selected constant current. ( 3.7 Li-FeO4 and 4.35 type high voltage batteries charging mode can be selected through switch on board )
● The charger also includes overheat detection to protect rechargeable batteries and charger itself from overheating
● New added quick test mode to test the battery impedance
● Four Working Mode Available at User's Choice: Charge, Discharge, Test, Quick Test and Refresh
● Easy to read LCD with back light Showing Battery Voltage, Charge / Discharge Current, Charging Time, Battery Capacity etc.
● Designed for AA ( LR6 ) and AAA ( LR3 )NiCd, NiMH or 3.7V Li-ion rechargeable batteries in size type of 10440, 14500, 16340, 17335, 17500, 18490, 17670, 18650
● Ideal for office and home use
● Operating temperature: 0 - 40 deg.C
● Max charging capacity: Up to 20000mAh
● Power adapter: DC 12V, 3.0A ( Output ), 100-240V, 50 / 60Hz ( Input )
● Note: Battery not included
Highlight
1. Voltage update rate is 30s instead of 60s.
2. Charging voltage is regulated to 4.7V instead of 5.0V, thus loading on power adapter when batteries are flat is less. 5.0V charging voltage has problem in regulating the correct current level due to this over loading current on power adapter, which lead to Panasonic brand Li-ion batteries showed wrong charging capacity value ( + 25 percent ). With 4.7V charging voltage, the load on power adapter is greatly reduced and thus can make all types of batteries are charged properly.
3. 4.35V charging time can be very long because charging current is regulated in entering the CV stage at 4.12V, which is same as 4.2V type. Now 4.35V charging algorithm is changed to 4.27V.
5. Better safety feature: PCB temperature was used to in controlling fan on / off only with 2.0V, now this function is enhanced so that temperature is monitored for entering thermal shutdown mode when excessive high temperature is reached. It is especially helpful when fan is not running and which can lead to plastic melt down happening.
6. New fan cover make better protection for cooling fan.
7. Charging current range ( mA ): 200, 300, 500, 700, 1000, 1500, 2000
8. Discharge current range ( mA ):200, 300, 500, 700, 1000 ( li-ion cell battery only )
9. Max. charging capacity: 20000mAh
10. Voltage deviation: < 0.03V @4.2V
11. Current deviation: < 5%
Specification:
General

| | |
| --- | --- |
| Brand | Opus |
| Type | Charger |
| Model | BT-C3100 V2.2 |
| Plug | US adapter |
| Charging Cell Type | NiCd,Ni-MH,Lithium Ion |
| Compatible | 18650,26650,14500,10440,18500,22650,16340 (RCR123),10340 |
| Rechargeable Battery Qty | 4 |
| Input Voltage | AC 100~240V 50/60HZ |
| Output Voltage | DC 12V, 3.0A |
Functions

| | |
| --- | --- |
| LCD screen | Yes |
| Circuit Detection | Yes |
| Protected Circuit | Yes |
| Over Voltage Protection | Yes |
| Short Circuit Protection | Yes |
| Over Charging Protection | Yes |
| Over Discharging Protection | Yes |
Dimension and Weight

| | |
| --- | --- |
| Product weight | 0.234 kg |
| Package weight | 0.520 kg |
| Product size (L x W x H) | 14.40 x 9.80 x 3.90 cm / 5.67 x 3.86 x 1.54 inches |
| Package size (L x W x H) | 16.00 x 22.00 x 5.00 cm / 6.3 x 8.66 x 1.97 inches |
Package Contents

| | |
| --- | --- |
| Package Contents | 1 x Battery Charger, 1 x US Power Adapter, 1 x English User Manual |
This charger is a analyzing LiIon and NiMH charger, this means the charger can both charge and discharge while measuring. The total number of function is large and this means the technical section in this review is very large.
When the charger is turned on, it displays test where all the text can be seen.
When startup is finished it is possible to select mode:
CHARGE: Charge battery with 200 to 1000 (2000) mA.

DISCHARGE: Discharge battery with 200 to 1000 mA.

DISCHARGE REFRESH: Discharge and charge the battery 3 times.

CHARGE TEST: Charge, discharge and charge the battery, show how much current was discharged.

QUICK TEST: Measure the internal resistance of the battery.

When display is flashing it is possible to select mode and current.
Using the slot button it is possible to reselect a slot and change parameters for it, also when charger is working.
When putting multiple batteries in the charger at the same time, it is possible to select mode and current simultaneous for all of them (Very nice).

When charging or discharging it is possible to use the DISPLAY button to select between V, mA and mAh.
The display button can also be used when the charge/discharge is finished, but the charger will change back to FULL display rather quickly.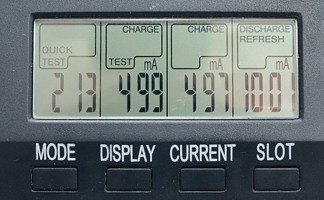 Here is an example where I have selected different functions for each slot.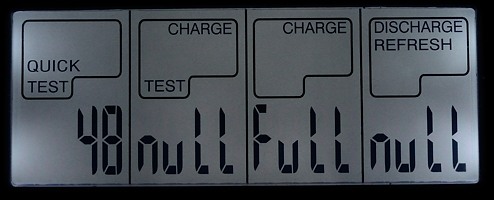 Each time a button is pressed, the light turns on for a 20 seconds.
The FULL and NULL message can also be seen.



The charger uses an external 12 volt power supply at 3A (see later).
It has a fan, this is necessary to handle all four channels at full power. Even with only one channel in use the fan, it start and stop very often. The fan is not very loud, but due to the starting and stopping it is very annoying.


The charger uses the classical slider construction to handle most battery sizes. The slider works smoothly and can handle sizes from 32 mm to 72.5 mm.
For measuring internal resistance the slider is not very good, it often has a HIGH connection resistance.




A couple of different NiMH batteries in the charger.




And some LiIon batteries.

Using only slot 1 and 4, the maximum charge current is 2000mA.
In all other cases the maximum charge current is 1000mA.
The maximum discharge current is always 1000mA.

Charge currents: 200, 300, 500, 700, 1000, 1500, 2000
Discharge currents: 200, 300, 500, 700, 1000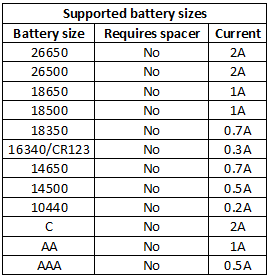 The charger can easily handle 70 mm long batteries
It is recommended to charge smaller batteries in the two center slots.
The charger has an internal switch marked with 3.7V, 4.20V and 4.35V. I have not tested this switch, because it is internal, but it might be possible to charge other Li-ion chemistries.

If you have any questions about this product, delivery, payment options, etc, please feel free to submit your enquiry. We will reply to you within 24 hours.
Inquiry Question
By Olegs May-03/2015 10:05:17
Inquiry : Charger have original EU power plug or US plug with EU adaptor?
Reply :
Hi, this item has original EU charger.
Bulk Order Discount:
Quantity
2+ units
10+ units
Dropship Price
More
Price/Unit
1

USD

39.94

2 ---- 9

USD

39.33

10 ---- 49

USD

38.73

50 ----- max

USD

38.12

Please submit your inquiry below